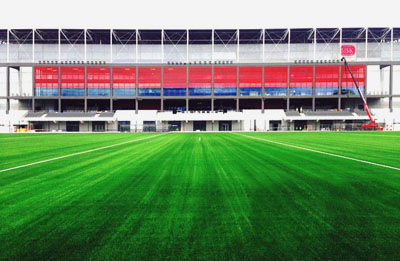 Following on from the success of our Grass Pitches and Sand Carpet pitches, the Company Directors decided to enter the Artificial Pitch Sector and tender for works. The first Artificial pitch we completed was 12 years ago in the Mallow GAA Complex. This pitch was 100 x 60m and is still in use today.
Since the first installation our high quality reputation has grown from strength to strength. The proof of this was recently being awarded and completing the full size GAA training pitch at the state of the art new stadium at Pairc Ui Chaoimh. Our bid was successful because of the top class systems we have available to us from our Carpet manufacturers and also because of the high quality Projects we have completed in the Munster Area. Our staff are highly trained and have huge experience at installing the artificial grass surfaces.
We have provided Artificial Sports surfaces for all sports over the last few years - GAA, Soccer, Rugby, Tennis, Hockey and Golf. We can offer advice and recommendations for any Artificial Project based on our experience and knowledge of the industry.
Our carpet comes from companies in Europe of the highest reputations. The suppliers are the FAI and IRFU preferred suppliers for artificial carpets based on the top quality of there products. We only use top quality products with a proper warranty system to ensure our Clients are getting the best end result for there investment. We are aware that fund raising is difficult for clubs and therefore every euro has to be well spent on high quality durable products. We analyse every product prior to recommending them for installation.
The following is a brief list of some previous Artificial pitch projects completed:
Pairc Ui Chaoimh Training Pitch - 15,500m2 GAA Specification system
Blarney GAA Club - 2,400m2 GAA Specification system
Ballinhassig GAA Club - 1,500m2 GAA Specification system
Mayfield United - 8,000m2 FIFA Quality
Kerry District League - 8,000m2 FIFA Quality
Killarney Celtic - 2,450m2 FIFA Quality (Training Pitch)
John Mitchels GAA Complex - 5,500m2 Artificial Pitch
Killarney Celtic - 7,000m2 FIFA One Star pitch
Clondrohid Recreational Facility Limited - 3,050m2 GAA Specification system
Newcastlewest GAA Club - 800m2 GAA Specification system
Ballydesmond National School - 800m2 Playground
Whitechurch GAA Complex - 6,000m2 Artificial Pitch
Whitechurch Tennis Club - 4no. Tennis Courts
Mallow GAA Complex - 6,000m2 Artificial Pitch
We have installed artificial goalmouths for GAA Clubs on their playing pitches in the last few years. They have been very successful as they prevent the need to re-sod the goals every year and they are very easily maintained. The following is a few clubs that have installed the artificial goalmouths:
Newcastlewest GAA Club
John Mitchel's GAA Complex
Kiskeam GAA Club
Macroom GAA Club
Dingle GAA Club
All Artificial surfaces require regular maintenance to keep them to the highest standards. The carpet warranties are directly linked to the maintenance schedule as outlined by the carpet manufacturers. For this reason we offer a complete maintenance service to all Artificial surfaces. We have invested heavily in the specialised equipment required to carry out all maintenance works. The following is a brief list of maintenance services we provide:
Brushing the infill to even levels
Top up infill levels
De-compact the pitch surface
Cleaning of the surface of loose debris
Check carpet joints and repair
Spraying of weeds
Ball Roll analysis of surface
Technical advice