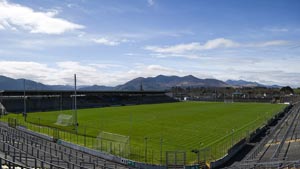 We have been working on Sports pitches since the Company was established in 1981. We come from a GAA background and are heavily involved in the local GAA Club in Ballydesmond.
We are extremely proud of the extensive list of Sports Clubs throughout Munster for whom we have successfully completed projects. Our huge experience and knowledge of pitch works ensures that we deliver a top class Project every time. We have the largest range of specialist equipment in the country for completing pitch works.
Our services range from Turnkey Centres of Excellence to annual maintenance works. We can tailor make a proposal to suit a tight budget and make proposals on how to achieve the best results for a clubs investment in their facilities.
The following is a brief number of Sports Complexes we have completed:
John Mitchel's GAA Complex, Tralee, Co. Kerry
Mallow GAA Complex, Co. Cork
Kerry District League, Tralee, Co. Kerry
Dr. Crokes GAA, Killarney, Co. Kerry
Whitechurch Community Sports Complex, Co. Cork
Rathmore GAA Complex, Co. Kerry
Our specialist pitch equipment allows us to complete Sports Pitches in all types of ground conditions. All our Equipment is Low ground pressure equipment and laser controlled where required. We recently completed a Sand Carpet pitch in Cordal GAA, Co. Kerry which was voted the worst pitch in Ireland a few years earlier. They now have a top class sand carpet pitch which the entire community is very proud of.
We specialise in installing drainage systems in existing grass pitches with the minimum of disruption allowing the pitch to be back in use immediately after the works are completed. Our highly trained staff ensure the surface is kept spotlessly clean and in the same condition as it was prior to starting the works.
Our huge experience with pitch surfaces allows us to provide top class maintenance advice and service to all clubs. We have been maintaining Fitzgerald Stadium in Killarney with the last 15 years. The surface there is as good as any surface in the country.
Annual maintenance of a sports pitch would generally include aeration, top dressing with sand, surface drainage works, weed spraying and fertiliser. We carry out these works for a huge number of Clubs throughout Munster. We can provide advice on how best to maintain a pitch surface based on the demand and usage.